Main page
---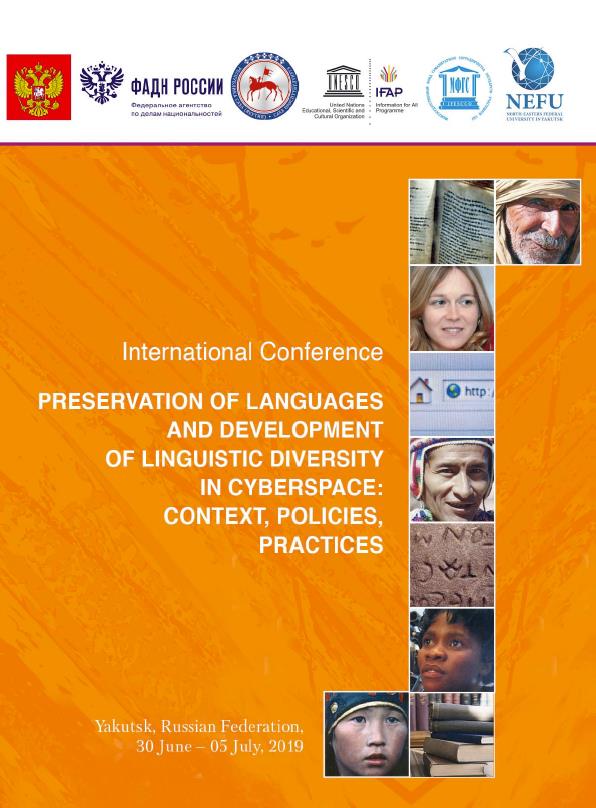 International Conference "Preservation of Languages and Development of Linguistic Diversity in Cyberspace: Context, Policies, Practices"
On 1–5 July 2019 Yakutsk successfully hosted the world's biggest international conference "Preservation of Languages and Development of Linguistic Diversity in Cyberspace: Context, Policies, Practices".
Over 100 reports were presented at plenary sessions and eight thematic sections held at the Sakha Theatre, in two buildings of the Sakha Government, at the State Assembly of the Republic of Sakha, and the North-Eastern Federal University. Most topical issues of the modern world were discussed by conference participants, including:
The position and status of various languages of the world (endangered and vulnerable; small, medium and large; minor and dominant; local, regional, official, state, international, etc.) and problems of their preservation

Linguistic, sociocultural, political, economic and other contexts of language functioning

Development of these languages' representation in cyberspace: tools, methods, institutes, environment

The need to equip languages with modern linguistic technologies (speech recognition, speech synthesis, machine translation, etc.)

Languages in education, culture, science, the media, politics, business, tourism, everyday life, etc.)

National, regional, international, institutional language policies in various spheres of language functioning

Measures taken to preserve various languages and maintain multilingualism in various countries; positive results of implementing such measures in real life and in cyberspace.
All these issues were discussed from different perspectives by researchers representing developed and developing countries, where multilingualism exists in various forms and at different levels.
The event brought together over 500 experts: public figures, politicians, diplomats, researchers working in the fields of ethnolinguistics, sociolinguistics, ethnopolitology, ethnosociology, cultural anthropology, philosophy, as well specialists in the elaboration and analysis of national and international language policies, educationalists, academics, representatives of cultural institutions and the infocommunication sphere from 63 countries and all world regions (Albania, Argentina, Armenia, Australia, Azerbaijan, Belarus, Belgium, Benin, Brazil, Bulgaria, Cameroon, Central African Republic, China (including SAR Hong Kong and SAR Macau), Columbia, Croatia, Cuba, Czech Republic, Dominican Republic, Egypt, Finland, France, Germany, Ghana, Hungary, India, Indonesia, Israel, Italy, Jamaica, Japan, Kazakhstan, Korea, Kuwait, Kyrgyzstan, Latvia, Lithuania, Maldives, Mexico, Moldova, Mongolia, Morocco, Mozambique, Nigeria, Palestine, Philippines, Russia, Saudi Arabia, Slovakia, South Africa, Sri Lanka, Switzerland, Syria, Tajikistan, Turkey, Ukraine, United Kingdom, United States of America, Uzbekistan, Venezuela, Vietnam, Zambia), as well as UNESCO.
The conference was organized by:
· Government of the Republic of Sakha (Yakutia)
· Russian Committee of the UNESCO Information for All Programme
· Ammosov North-Eastern Federal University
· Interregional Library Cooperation Centre
· UNESCO Chair on Language Policies for Multilingualism (Brazil)
Organizational and financial support to the conference was provided by:
· Government of the Russian Federation
· Ministry of Foreign Affairs of the Russian Federation
· Commission of the Russian Federation for UNESCO
· Federal Agency for Ethnic Affairs of the Russian Federation
· Federal Agency for Print and Mass Communications of the Russian Federation
· Intergovernmental Foundation for Educational, Scientific and Cultural Cooperation of the CIS (IFESCCO)
· UNESCO / UNESCO Information for All Programme
---
---
---
---
---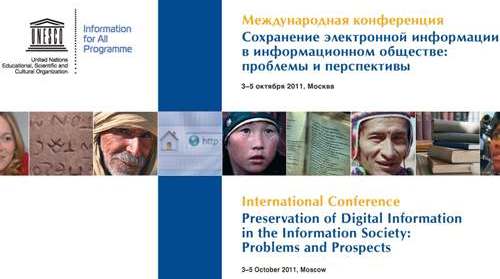 International Conference on Preservation of Digital Information in the Information Society: Problems and Prospects
The Moscow Declaration on Digital Information Preservation
---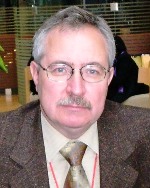 Evgeny Kuzmin was unanimously elected as IFAP Chair to a second term
---

The 2nd International Conference on Linguistic and Cultural Diversity in Cyberspace
Yakutsk call for action: A roadmap towards the World Summit on Multilingualism (2017)
---